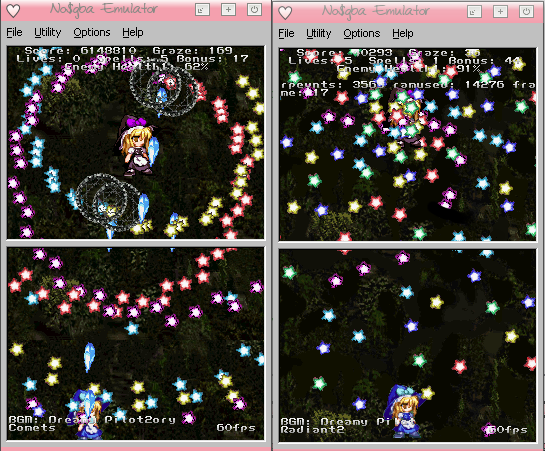 Quick screenshots from my Touhou fan game for nintendo DS. Have only worked on it for about 3 weeks then got distracted with the DS homebrew scene trying to fix0r up some of the stuff that needs attention and ripping the icky pa_lib code out. PA_Lib is gr8 for quick simple games but for complex stuff causes lotta problems and using libnds instead now, but libnds is lacking some features i need, but im workin' on it.
So far i have a complete level finished, start screen, music room, barely not working replay mode, and a some really purdy patterns. Working on creating my own version of Zun's wonderful music, and trying to learn how to draw lolis for the dialog scenes. Hopefully will finish in a few months, want to create the best game ever with lots of love and attention to details as the originals are.
Here is 2 shots from the boss segment, there is another segment featuring some nameless fairies at the start with a pretty neat rotating background :D There is some garbage text on these shots from debugging printfs... ignore plz thx..
Since I've already totally redone the graphics and am changing the patterns etc guess wont really be spoiling too much so, Here is a short avi demo of the early code and Here i have started the project's wiki.
Notes: The original Touhou games are the BEST SERIES OF GAMES EVER!!! It is SOOO tryppy and pretty, has all girl cast of characters, with THE BEST MUSIC EVER!! All created by one guy named Zun in japan. He is my hero!!! I want to have his babies!!!! Or at least code a game that is somewhat close in total ossumness to them. Have been working on a DS version..
Also Here is another ds touhou!! If it wasnt for this i'd not be making one so *hugga* *huggas* spuzkaizer..
This you tube video shows Perfect Cherry Blossom replay, so you can hear some of the music and see how its played. Long ago i saw this flash animation and thought omg sooooo cute!! but didnt realize it was characters from the game till over a year later. Note: it only looks impossible :P
Hope u would like to know more, here is the best english language wiki and Touhou image board.
http://www.pooshlmer.com/