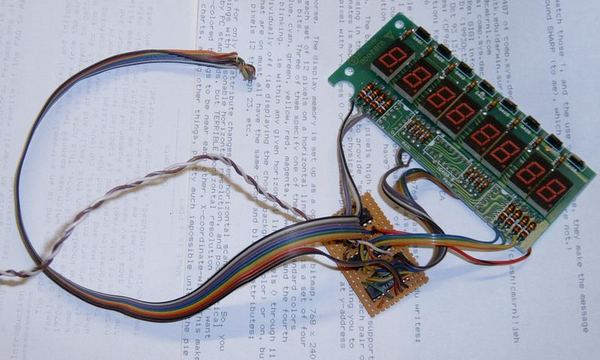 Images of homebrew ppm/ph meter with serial and usb for loggin and setup. More details of the project itself can be found here. (clicky!)
This is the display board with a driver board. There is a 3 to 8 line decoder IC 74LS156 for positive voltage driving the transistors i left on from the original circuit, and 2 quad AND open colector IC 74LS38 for negative side. together they create a 8 by 8 matrix which is able to drive the 7 segment (and decimal point) display. The microcontroller maps the display as 8 bytes. each bit of each byte corosponds to a individual segment. The code has a 'character set' table that converts an 8bit ascii character code into 8 bits of the display.
Attached is the C and H files relevant to the display.